Xinaps takes model checking to the cloud with Verifi3D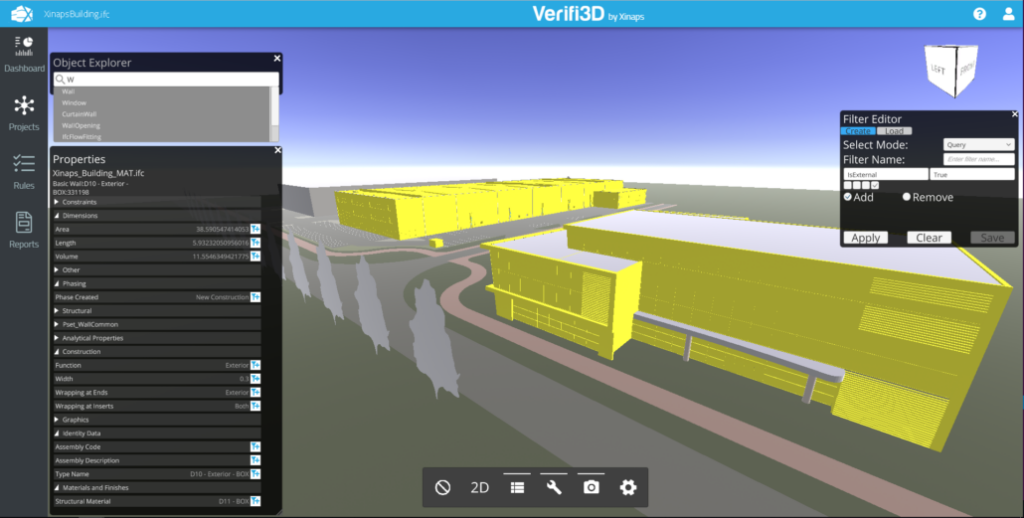 Virtual Design & Construction (VDC) is the integration of multidisciplinary working methodologies that optimizes and accelerates the evolution of the AEC industry. Its main aspects feature the Product (building, infrastructures, etc.), the Organization (involvement of all parties) and the Process (workflow of the design). The added value is enhanced collaboration among the parties, reduction of construction lead time by 10% and a reduction of contingency costs up to 50%.
To further help the digitalization and the modernization of the industry, we officially launched our new product Verifi3D: a state-of-the-art model checker for VDC professionals.
Check out AEC's magazine Verifi3D review.
Aimed at bringing model checking to the next level, Verifi3D not only allows you to check your models real-time but also helps you be compliant with ISO19650 standards, as well as with local and project-specific requirements. Verifi3D aims to become a leader in the digitalization of the AEC industry, by automating time-consuming and mundane processes that are often carried out manually. The product already has its first customers, among which big names in the industry such as Takenaka, BuroHappold Engineering and TBI.
What does Verifi3D bring to professionals' workflow?
The idea came when Frank Schuyer, CEO of Xinaps, wanted to design a software capable of smoothly linking the final design stage with the pre-construction phase. These are the most crucial stages of a building process, as they ensure the safety and accuracy of building models, as well as their compliance with local rules and regulations. These phases include a variety of professionals in different spheres. The complexity of the projects and the number of parties involved can sometimes increase the risk of inaccuracies or inefficiencies, making effective communication and integrated workflow a must. The automation of tasks and the ability to access the latest version of the building model can mitigate risks and improve the work of professionals in the AEC industry.
As a product of countless hours of research and development, Verifi3D is a Software-as-a-Service (SaaS) that allows users to classify their building models data in real-time, visualize them in 3D and 2D, run customizable checks, and report issues. Combined with its cloud-based structure, the solution increases efficiency, decreases costs and mitigates the risks of inaccuracies and miscalculations.
The solution enhances the workflow of VDC professionals and ensures that building models are compliant with local rules and regulations. Verifi3D supports native Revit® and .IFC files and can be used for different checks, such as clash detection, egress path and parameter checks. It also allows users to create and save their own rulesets and reuse them for other future models, saving time and effort in the pre-construction stage.
Verifi3D is seamlessly integrated with collaboration platforms such as Autodesk BIM 360. It also features a dashboard, which provides an overview of all projects, as well as specific details about each individual project. The dashboard also provides real-time updates about each model, making sure that each team member gets the latest version.
The solution supports issue tracking based on BCF format. It allows users to create screenshots of issues, assign them to team members and export issue reports in different formats, such as .PDF or .CSV.
Altogether, the AEC industry is a very complex environment. The increasing number of professionals, data and project complexity has to be balanced by the advancements of digital tools such as Verifi3D. The set of features Verifi3D includes makes it a versatile, easy to use, all-in-one platform that can be used by different team members in all steps of the pre-construction stage of the building process.
The product's pricing is based on a subscription model with a free trial version (called Town), a City and a Metropolis version with additional support and features included.
Request a quote from our pricing page or start your 30-day trial! You can also contact us through the website or send us an email at [email protected].