Verbessern der Datenqualität
Hazenberg Bouw, eine Tochtergesellschaft von TBI, dem führenden niederländischen Bau-, Technologie- und Infrastrukturkonzern, steht seit über einem Jahrhundert an der Spitze der Gestaltung der bebauten Umwelt. Mit einem unerschütterlichen Engagement für Innovation und Nachhaltigkeit sucht Hazenberg Bouw ständig nach innovativen Lösungen, um seine Bauplanungsprozesse zu verbessern. Inmitten der digitalen Revolution gibt es jedoch immer wieder Herausforderungen bei der Sicherstellung einer effizienten Kommunikation und Zusammenarbeit, insbesondere bei Großprojekten, bei denen die Datenqualität von größter Bedeutung ist. Um diesem entscheidenden Bedarf an konsistenten Daten gerecht zu werden, hat Hazenberg Bouw Verifi3D implementiert und damit einen neuen Industriestandard in seinem Streben nach Exzellenz gesetzt.
Verbesserte Datenqualität.
Durch Standardisierung und die Verwendung vordefinierter Vorlagen konnte Verifi3D die Qualität der Gebäudedaten erheblich verbessern und genaue und zuverlässige Modelle im gesamten IFC-basierten Arbeitsablauf sicherstellen.
Verbesserte Zusammenarbeit und Modellkoordination
Dank der benutzerfreundlichen Oberfläche von Verifi3D, der nahtlosen Integration mit Autodesk BIM 360 und der Möglichkeit, Dateien in verschiedenen Formaten zu importieren und zu exportieren, konnte Hazenberg Bouw seinen Workflow für die Modellprüfung optimieren - und das alles in einem Browser. Darüber hinaus sorgten die Echtzeit-Synchronisation und die Modellkoordination dafür, dass jedes Teammitglied Zugriff auf das neueste Modell hatte, was die Zusammenarbeit, Transparenz und Verantwortlichkeit förderte und die Produktivität um bis zu 30 % verbesserte.
Einhaltung von Daten und Normen.
Durch den Einsatz der hochmodernen Automatisierungslösung von Verifi3D bleibt Hazenberg Bouw an der Spitze der Branche und setzt den Maßstab für nachhaltige Baupraktiken bei gleichzeitiger Einhaltung globaler und lokaler Baunormen und -vorschriften, einschließlich der ISO-Norm 19650.
Verringerung von Nacharbeit und Fehlern.
Durch den Einsatz der fortschrittlichen regelbasierten Engine von Verifi3D und der leistungsstarken cloud- und browserbasierten Struktur optimierte Hazenberg Bouw seinen Modellprüfungsprozess, indem es über 10.000 Kollisionen während der Entwurfsphase erkannte und auflöste. Dadurch konnten sie potenzielle Probleme frühzeitig erkennen und beheben, was zu weniger Nacharbeiten, reibungsloseren Bauplanungsprozessen und erheblichen Kosteneinsparungen führte.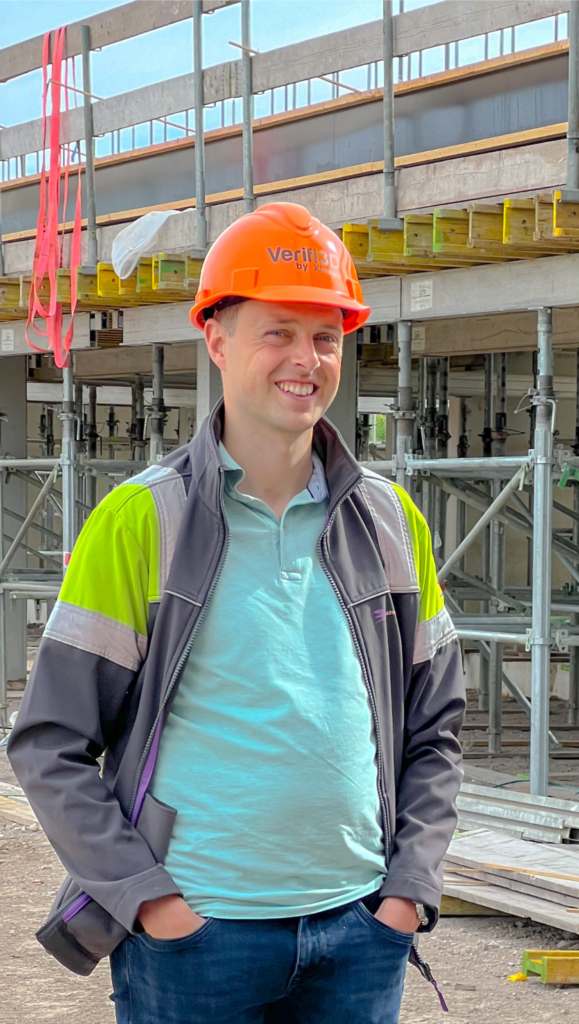 "Verifi3D hat unsere Arbeitsweise bei Hazenberg Bouw verändert. In einem großen Unternehmen war es immer eine Hürde, auf die neueste Modellversion zuzugreifen und eine effiziente Kommunikation in Echtzeit sicherzustellen. Die Cloud-Struktur von Verifi3D löst diese Probleme und hebt unseren Arbeitsablauf bei der Modellprüfung auf ein völlig neues Niveau. Aber das ist noch nicht alles. Wir haben noch nicht einmal sein volles Potenzial ausgeschöpft!"
"Verifi3D has transformed the way we work at Hazenberg Bouw. In a large company setting, accessing the latest model version and ensuring efficient communication in real time has always been a hurdle. However, Verifi3D's cloud structure disrupts these issues, bringing our model checking workflow to a whole new level. But that's not all. We haven't even unlocked its full potential yet!"