Digital transformation and the future of the construction industry ft. Verifi3D
The construction industry is going through a digital transformation and there is a rising demand for better model coordination between various project stakeholders and more emphasis on digital tools and global standards mandated by the government. Traditionally the construction industry has been seen as slow to embrace technological advancements without compelling reasons to do so. However, in recent years, a significant shift has occurred, driven by the need for greater efficiency, reduced costs and improved project outcomes and unlocking opportunities for checking the very models that express the design. This transformation is being powered by digital technology, which is revolutionizing the way construction projects are planned, executed and managed.
Understanding digitization and digitalization in construction
Digital transformations generally take the form of two consecutive stages: the digitization of information is followed by the digitalization of processes. In construction, for example, the paper drawings containing design information were digitized and thus transformed into digital CAD files. A digitized CAD drawing allows for the digitalization of workflows relating to the information a drawing contains, e.g. referencing to digital libraries of objects, design automation through scripting, or tracking of remarks and revisions entirely in digital form. Digital transformation is like a searchlight that lightens up one segment of the construction industry after the other, affecting ever more areas of work through the digitization of information and the digitalization of processes. From tenders to planning to drafting to logistics to costing to billing, one discipline after the other is subject to the same two-step disruption as digital transformation ripples through the industry.
Traditionally, construction projects heavily relied on paper-based drawings and manual model checking processes. This approach was time-consuming, prone to errors, and often resulted in clashes and compliance issues and data inconsistencies being discovered late in the construction process. Such issues could lead to costly delays and rework and impact the quality of the building design models and data. But moving towards digital drawings also brought the perspective of replacing manual model checking with automated model checking. This shift can be seen as a "Push/Pull" dynamic, where various factors are driving the industry to adopt digital technology while simultaneously pulling it away from analogue workflows.
Model checking to the rescue
As modern construction projects are becoming increasingly complex with a multitude of stakeholders relying on desktop point solutions, it results in inconsistent building data and processes. The problem at hand necessitates the use of more sophisticated tools to manage intricate designs and model checking processes. Project timelines are often tight, teams are under constant pressure to check multiple models of varying file formats and sizes, reduce costs and optimize resource utilization which pushes toward a need for an efficient building design process. These challenges have indeed made it imperative for the industry to adopt more advanced tools to streamline building design processes and ensure project success all the while maintaining the quality of the building design data. All this makes automated model checking a critical component of digital transformation in construction.
Effective model checking involves the classification, verification and validation of building design models to ensure they are accurate, clash-free and compliant with building codes and regulations. To implement it in the building design process, it is essential to identify authoritative solutions and tools. One such solution is Verifi3D which stands at the forefront of digital transformation. As the next-generation model checking solution that uses predefined templates based on connected and openBIM workflow, Verifi3D with its advanced rule-based engine automates clash, geometric and parametric checking all in a browser-based environment.
Construction project interoperability and ISO 19650 compliance
To ensure consistency and best practices, many construction projects adhere to established industry standards. OpenBIM promotes interoperability and collaboration among various stakeholders involved in a construction project. Verifi3D's flexibility and interoperability as an openBIM and connected solution ensure that digital models can be seamlessly shared, enhancing compatibility and reducing the risk of data loss or errors during the exchange of information. With its advanced rule-based engine, Verifi3D allows users to define custom filters, rules and checks based on local building codes, standards and project-specific requirements. This standardization of process enhances interoperability and facilitates a seamless flow of information, thus ensuring an automated and optimized building design workflow.
Moreover, in many regions, construction projects must adhere to specific building codes and regulations. ISO 19650 is an international standard for managing information over the entire life cycle of a built asset. Verifi3D supports the principles of information management defined in ISO 19650, such as the organization and classification of data, version control and data exchange/viewing protocols. With version control, Verifi3D ensures that all project stakeholders are working with the latest and most compliant versions of building design models. This is crucial for maintaining ISO 19650 compliance, as it helps prevent data inconsistencies and confusion related to outdated and inconsistent information among stakeholders.
Shaping the future of construction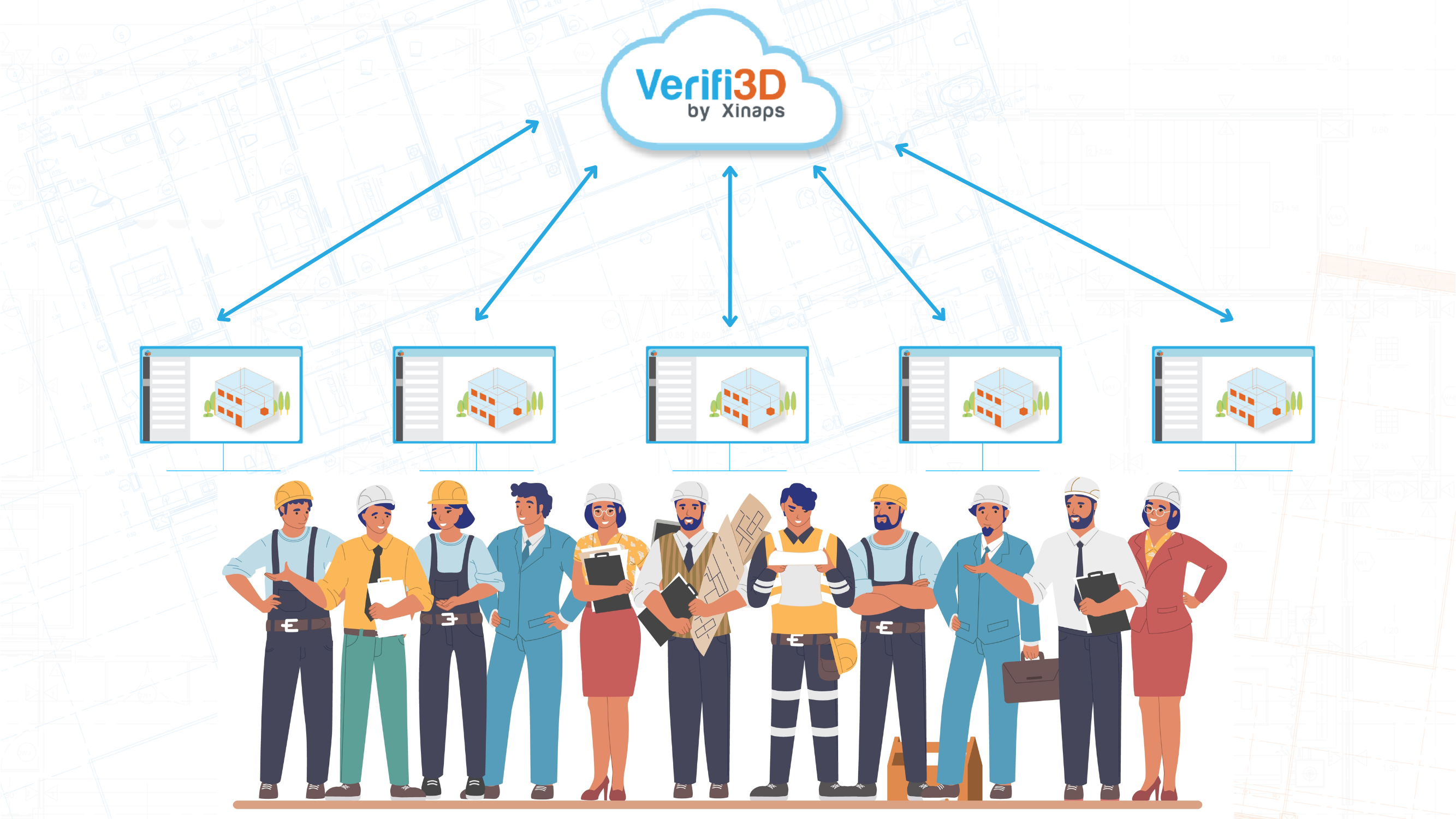 The construction industry is entering a new era of digital transformation where efficiency, accuracy, and collaboration are paramount. Model checking with the help of a next-generation tool like Verifi3D, plays a central role in this transformation. By automating clash, geometric and parametric checks and offering advanced next-gen machine learning capabilities, Verifi3D is at the forefront of shaping the future of construction ensuring that all project stakeholders are working with synchronized and compatible digital models of the project. As the industry continues to evolve, embracing digital transformation and innovative solutions will be key to achieving success in construction projects of all sizes and complexities. Ultimately, by automating model checking, the construction industry can reduce errors, streamline processes and most importantly deliver projects on time and within budget at the highest quality.