Xinaps and BIMcollab integrate issue management and model checking in the cloud with the BIMcollab-Verifi3D link
For immediate release
10/10/2020, Delft, the Netherlands – BIMcollab and Xinaps announce a groundbreaking integration in one of the least digitalized parts of late design and pre-construction stage. The newly introduced interworking between Xinaps' model checker, Verifi3D, and BIMcollab's issue management software, brings to the AEC industry a seamless, comprehensive workflow within the model checking process.
The issue management system in the cloud operates across applications, empowering project collaboration. BIMcollab is designed to manage issues during the design and construction phases where BIM is used. Verifi3D empowers designers and general contractors with the right tools to validate their BIM data, automate hard clashing checks and mitigate risks during the model checking process real-time. Bringing these two workflows together helps bridging the differences between BIM tools and targets the multidisciplinary cooperation between companies working on construction projects. Now, issues found with the Verifi3D Model Checker can be published to BIMcollab real-time. The BIM modeler will be automatically notified and can immediately locate the problematic objects in their BIM Model whatever the authoring tool (Revit, ArchiCAD, etc). Once a solution is found, a simple click allows the issues to be reported and resolved.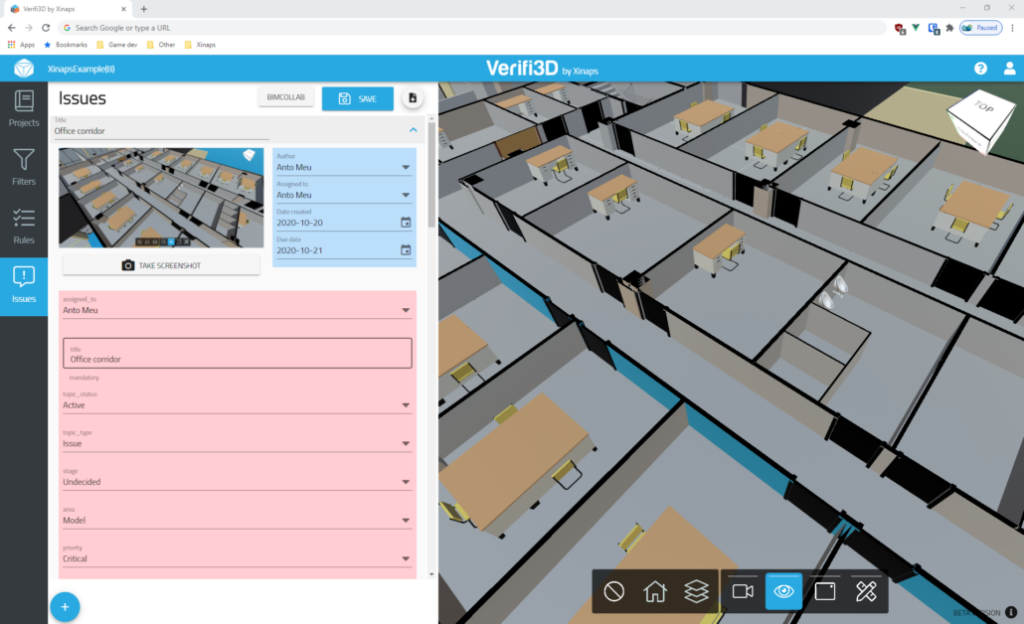 Combining the cloud-based structure of Verifi3D and the powerful BIMcollab workflows users already know and love results in a time-saving, seamless integration. Interworking between Verifi3D and BIMcollab allows project teams to save time by automating clash detection, increase the quality of their models by early data validation and create a single source of truth for issue management across the entire project team.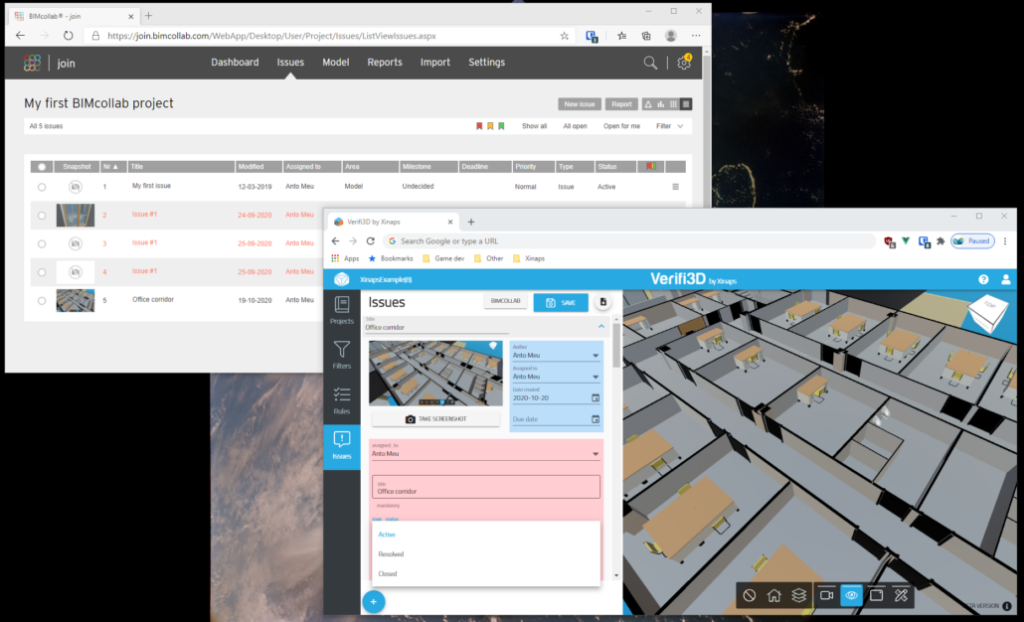 About Xinaps
Excellence by technology: we believe in building better. Xinaps is specialized in innovative cloud-based software development for the AEC industry. Our company builds model checking solutions in the cloud to optimize and automate processes. Together with you as innovators in the AEC
industry, we develop solutions that modernize the industry and help you build smarter, safer and better buildings for everyone. We believe in building better. For more information: xinaps.com
About BIMcollab
BIMcollab is an issue management system for BIM in the cloud and bridges the gap between BIM applications based on OpenBIM, by offering a broad set of add-ons for all popular BIM tools. Over 80.000 building professionals are using BIMcollab Cloud. It reduces time spend on communication about issues and helps to improve model quality: less construction errors, lower costs.
BIMcollab is a brand owned by KUBUS, a software company offering BIM solutions for Design & Build which is also exclusive distributor for GRAPHISOFT and Solibri, Inc. in the Benelux. KUBUS operates from offices in Eindhoven, Amsterdam, Hasselt and Belgrade. For more information: bimcollab.com
For more information:
Hristina Balabanova
[email protected]